Saturday Classes
February 2021

Saturday 6th - Genius Work Cushion
10 - 3.30pm $45 includes EPP papers and pattern
This cushion is not just a cushion! The design allows you to create the perfect ergonomic shape that will support your wrista and arms as you hand stitch. The cushion has pockets and storage for all your stitching needs.
Requirements: 7 coordinating fat quarters


Saturday 12th - Hipster Bag
10am to midday $50 includes the kit with different fabric choices available.

A great quick and easy bag to sew for beginners. The bag is large enough to hold your phone and keys. Done with all straight line sewing with a zip. So a great opportunity to learn how to sew a zip with clear instructions and support of a teacher.
Saturday 19th - Quilting Class cost $30 10am to 3.30pm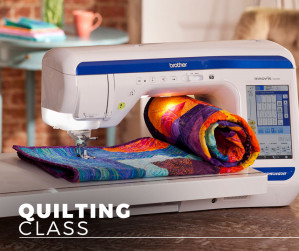 Saturday 26th - Sit n Sew 10am to 3.30pm $10
March

Saturday 6th - Sit n Sew 10am to 3.30pm $10

Saturday 13th - TBA

Thursday 18th - 2pm to 4pm Made to Quilt FREE
Lots of sewing fun and demonstrations with Brother Australia sewing machine. We are kick starting our 15 year celebrations with giveaways and door prizes. More details to follow.
Saturday 20th - Quilting Class 10am to 3.30pm $30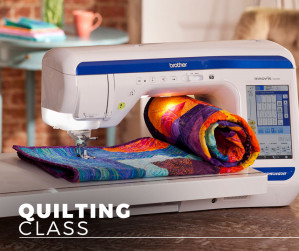 Saturday 27th - Sit n Sew 10am to 3.30pm $10
Class guide
Samples of most workshops will be on display in the shop prior to the class. Fabrics and notions etc are not included in class fees unless specified. Requirements lists are supplied when you pay your deposit for your class.
Sewing Nook - Sit n Sew
Do you need to set aside time for yourself to get some sewing done? This is a chance to have some social interaction away from the demands of home and work and do some stitching.
Scan n Cut Class
Because there is just SO MUCH that this machine can do and you want to know how. Then these classes will show you how.
Quilt Class
In this class, you can enjoy learning some new skills or brush up on your quilting skills by making some projects for yourself or for gifts. Bring along the patterns that you have always wanted to make or your unfinished projects and enjoy working on them with help. If you need inspiration then make a sampler quilt to learn different techniques