Saturday Classes
August
Saturday 21st - Overlocker Workshop 10 - 2
Get to know your overlocker Cost: $75 includes kit
Have you just purchased an overlocker or have one siting in the cupboard never used? Maybe you can serge the edge only but thats all. An overlocker can be a scary beast at times and threading them can be a daunting but rest assured by the end of the workshop you will LOVE your overlocker You must bring your overlocker and ensure that it is good working order.
Saturday 28th - Sit n Sew Cost $10 for full day
SEPTEMBER
Saturday 5th -Sit n Sew cost $10 for full day

Saturday 12th - Make a sewing Storage bags 10 - 3pm $30

Simple easy to make storage bags to carry your work in progress items. So indulge yourself and join us for the day. You need 4 coordinating fat quarters and matching plain fat quarter + 1 metre of parlan + 14" zip.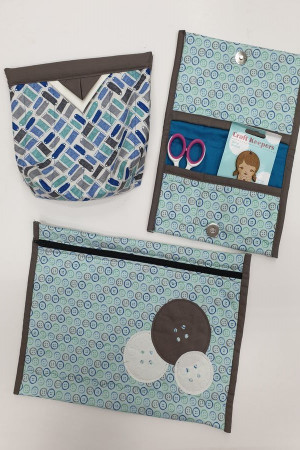 Saturday 19th - Quilting Class 10am to 3.30pm $30
Saturday 26th - Make Beewax wraps 10am to 12 midday $45 includes beeswax blend.

Reuseable beewax wraps are an excellent alternative way to use instead of plastic wrapping your food. They can save you money and are a reduce your rubbish waste. Make some as a gift for friends. All you need to bring is washed 100% cotton fabric (1/2 metre) paint brush, baking paper, cheese grater.
Class guide
Samples of most workshops will be on display in the shop prior to the class. Fabrics and notions etc are not included in class fees unless specified. Requirements lists are supplied when you pay your deposit for your class.
Sewing Nook - Sit n Sew
Do you need to set aside time for yourself to get some sewing done? This is a chance to have some social interaction away from the demands of home and work and do some stitching.
Scan n Cut Class
Because there is just SO MUCH that this machine can do and you want to know how. Then these classes will show you how.
Quilt Class
In this class, you can enjoy learning some new skills or brush up on your quilting skills by making some projects for yourself or for gifts. Bring along the patterns that you have always wanted to make or your unfinished projects and enjoy working on them with help. If you need inspiration then make a sampler quilt to learn different techniques